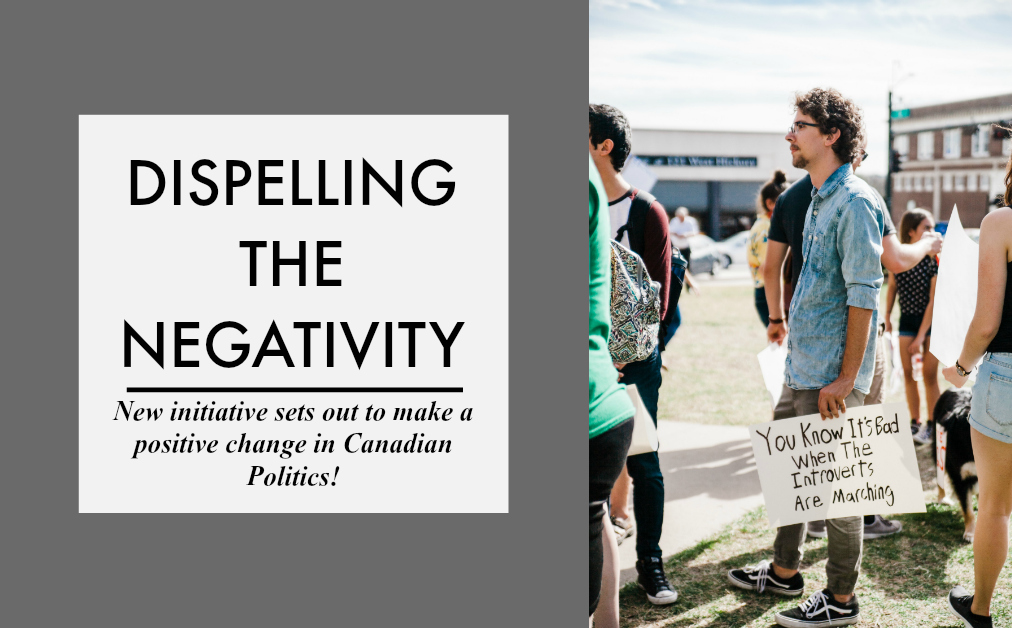 Canadian Politics have been negative for too long. The world thrives on what's going wrong and society is quick to point it out.
The good news is that Canada was recently ranked #1 in the world for the best quality of life. In fact, it's the second year in a row for this prestigious title.
Despite the good news, we can't ignore the challenges that our country faces on a daily basis. These challenges have a greater impact on the bigger cities with higher populations and this is a concern because our big cities drive the sustainability of our economy.
At the heart of our cities are some pretty incredible Leaders who make it their life purpose to serve others. 
Our Mayors get up every day to a flooded inbox from their citizens asking them to help solve the problems within their community. Problems like; homelessness, opioid crisis, unemployment rates, land development, and more.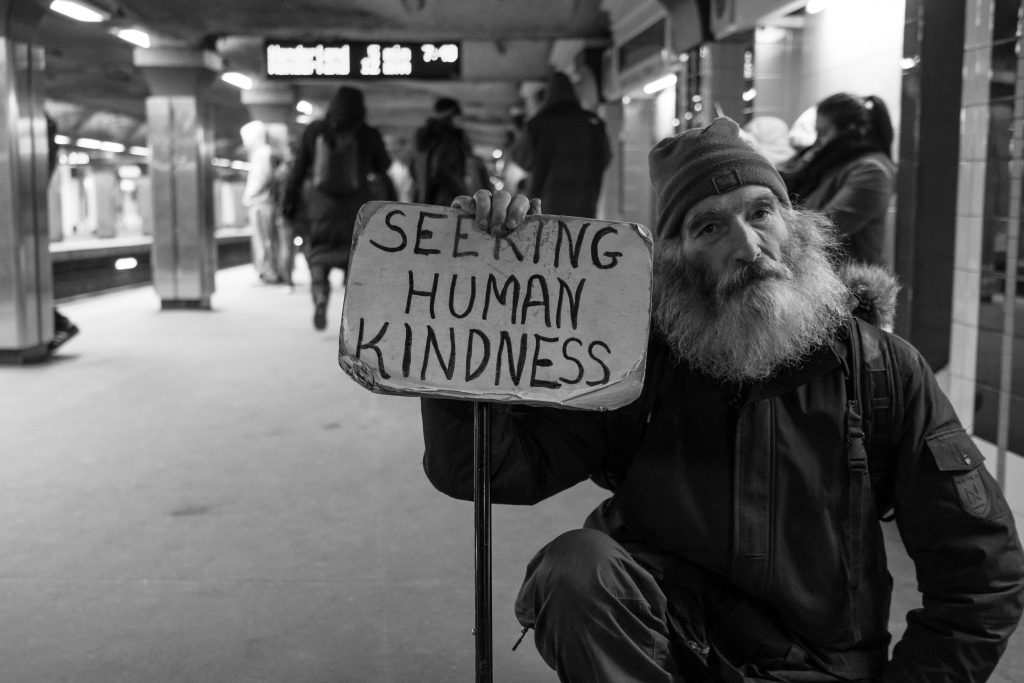 When you think about it, our Mayors take on a big responsibility and when something goes wrong in their community, they are the first to be blamed.
Our Mayors are the grassroots of what makes Canada "#1 In the World for the Best Quality of Life".
Enter a new initiative that will celebrate our big city Mayors, and their communities while raising funds to help drive local charities and community development projects. Entitled "Canada's Top Mayor Award", it focuses on what big city Mayors are doing right.
The Award launched February 2, 2019 and is currently in the Nomination phase of the competition.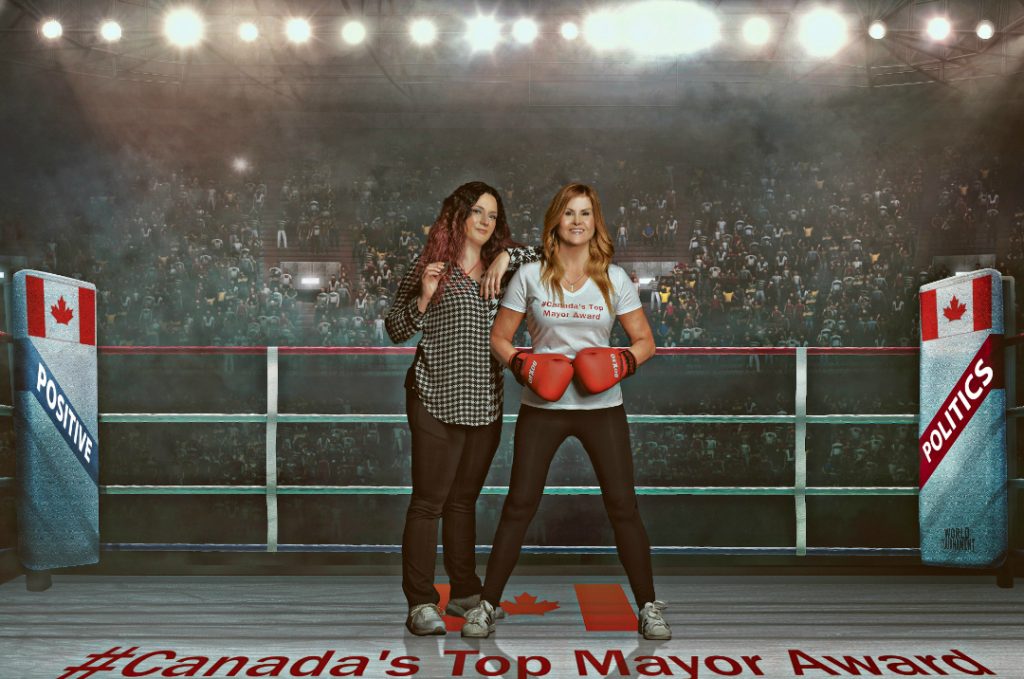 "We wanted to find a way to celebrate and support our Mayors and their Council", says Founder Dawn Mucci. "Along with the award, we have a fundraising goal of $1 million dollars to go towards the winning Mayors charity or community development of choice."
"The initiative consists of Committee Members, in kind Sponsors, monetary sponsors and 9 Celebrity Judges," says co-founder Tammy-Ann Chapman.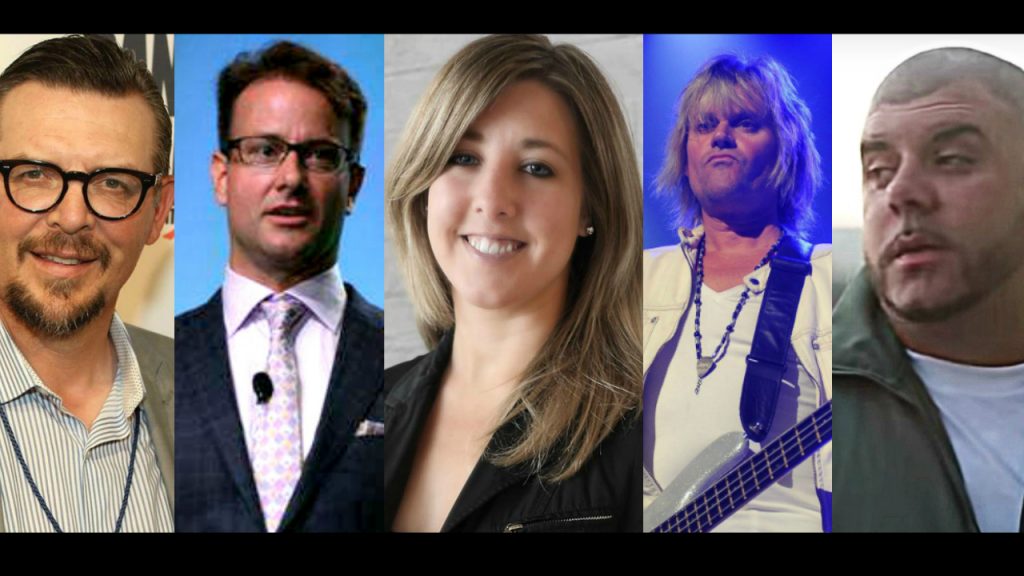 The Judges Panel so far includes:

Juno Nominated Songwriter Rob Laidlaw

Award Winning Rapper, Producer and Entrepreneur Peter Jackson

NHL Alumni and Best Selling Author Theo Fleury

Start Up Canada's CEO Victoria Lennox

Best Selling Author, Broadcastor, and Motivational Speaker Dr. Greg Wells

And recently added to the list … the legendary longest running Mayor Hazel McCallion
"The rest of the Judges will be announced as the initiative progresses", says Dawn.
The competition consists of the nomination stage, public voting stage, Celebrity Judge Panel stage and the Winning Mayor's Announcement and Celebration.
"There are over 50 potential Mayors who could enter this competition", says Tammy-Ann. "So far we have Marianne Meed Ward of Burlington, Jim Watson of Ottawa, Jeff Lehman of Barrie, Bonnie Crombie of Mississauga and Walter Sendzik of St. Catherines."
"I look forward to seeing the positive communication grow between politicians and their citizens," says Innisfil Mayor Lynn Dollin. " There is a lot of important work being done on the local level and I anticipate that the nominations received will shed light on those local stories."
"We are excitedly awaiting the competition entries for the first 5 nominated Mayors," says Dawn. "And … look forward to the many more to come."

If you think your big city Mayor has what it takes to be titled "Canada's Top Mayor" take the next 60 seconds and nominate them now.  
Note: Nominations run from February 2 – June 1, 2019.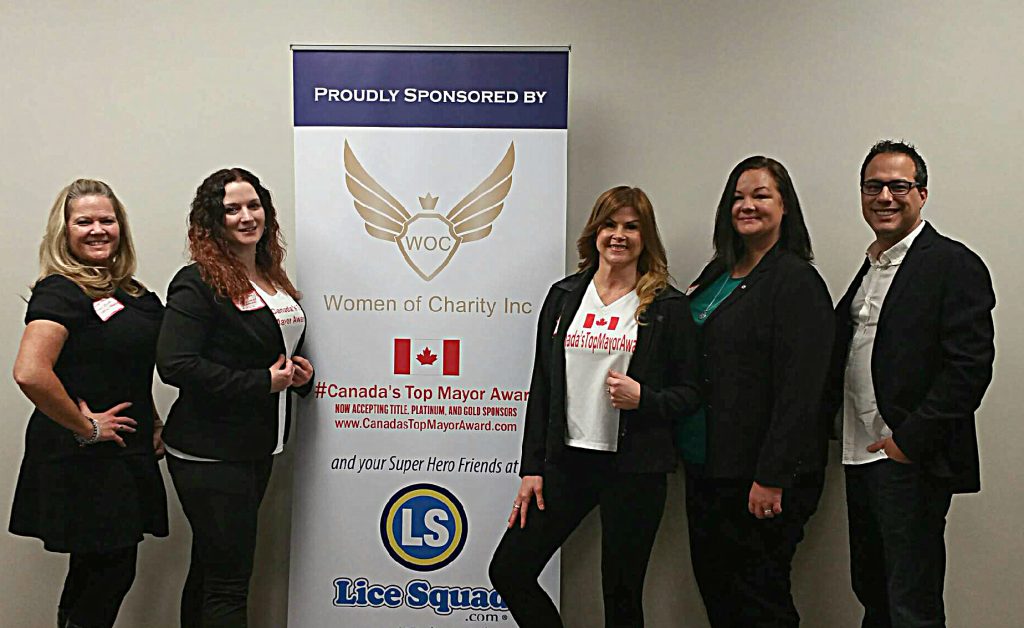 Canada's Top Mayor Award officially launched January 27, 2019 with much success.
The news quickly percolated across several media channels and many elected officials have responded favorably as they wait to see if they become Nominated for the prestigious Award. The public will have a chance to Nominate their big city Mayor starting February 2, 2019.
(Note: To Nominate your Mayor, click here.)
To start off the Nomination portion of the competition, Founders Dawn Mucci and Tammy-Ann Chapman called a Press Conference Friday February 1, 2019 where media were able to attend and ask questions regarding the initiative.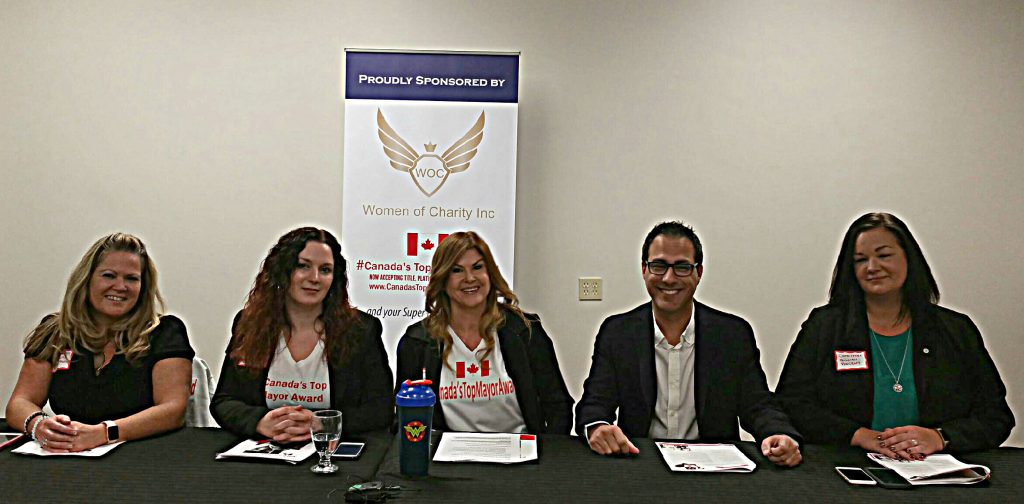 The Press Conference began with Arif Khan's opening statements in regards to his position as a City Councillor for Barrie, Ontario where he served for 2 terms and the impact the initiative will have on a Municipal level.
Founder Dawn Mucci was excited to share with the attendees the premise behind #Canada's Top Mayor Award and her aim of not only meeting – but exceeding the one million dollar fundraising goal.
"I am more than confident we will be able to reach our goal. Our Sponsorship Levels are accessible whether you are a large corporation or a sole proprietorship. Myself and Co-Founder Tammy-Ann have kicked off the Fundraising portion of the competition with our own Silver Sponsorship on behalf of the company we co-own together; Women of Charity Inc and my company Lice Squad.com".
During the Conference, Tammy-Ann was asked how the competing Mayors will be scored. "For the public portion of the competition, the Mayors will be able to obtain one vote. The voting is tallied on a per capita basis. The public will be able to view the Mayors entries which will be a combination of video and documentation. From there, they can vote on who they think should win the Award. After the public voting closes and the votes are tallied, the Final 3 Mayors move on to the Judges Panel. The 9 Judges will rate each finalist and submit their scorecards. The Winning Mayor will be contacted after December 23 and announced shortly after."
"We have 5 Judges so far on the Panel and will be announcing the rest of our Panel in the weeks to follow," says Dawn.
"The Judges we have so far have been very excited to come on board," says Tammy-Ann. "We have the extremely talented Rob Laidlaw who is best known for his role in Honeymoon Suite, Kim Mitchell and Platinum Blonde; Peter Jackson who is known for his hit songs like "On A Wave" and the 2016 Toronto Raptors Soundtrack "We the North"; athlete, best-selling author, broadcaster, and motivational speaker Dr. Greg Wells; Theo Fleury who is an NHL Alumni, Olympic Gold Medalist, motivational speaker, and best-selling author; and Award-Winning Entrepreneur, Investor, Innovation & Policy Leader, Founder of Startup Canada, Victoria Lennox."
"We couldn't have come this far without our amazing Committee and our in-kind sponsors", says Dawn. Adds Committee Member Gillian Vincent,"we have such a caring community, when I heard about this initiative I just had to come on board. As an active member in my community it's great to appreciate a competition like this that will result in positive outcomes on a national level."
Committee Member and Correspondent Mary-Ellen O'Neill-Madeley will be covering the #Canada's Top Mayor Award Vlog which will chronicle the journey of the year long initiative from start to finish, "I'm extremely excited to be part of this incredible initiative and I believe that it will bring a much needed positive approach to Municipal Politics throughout Canada."
Nominations begin February 2, 2019. Visit our nomination page to vote for your big city Mayor.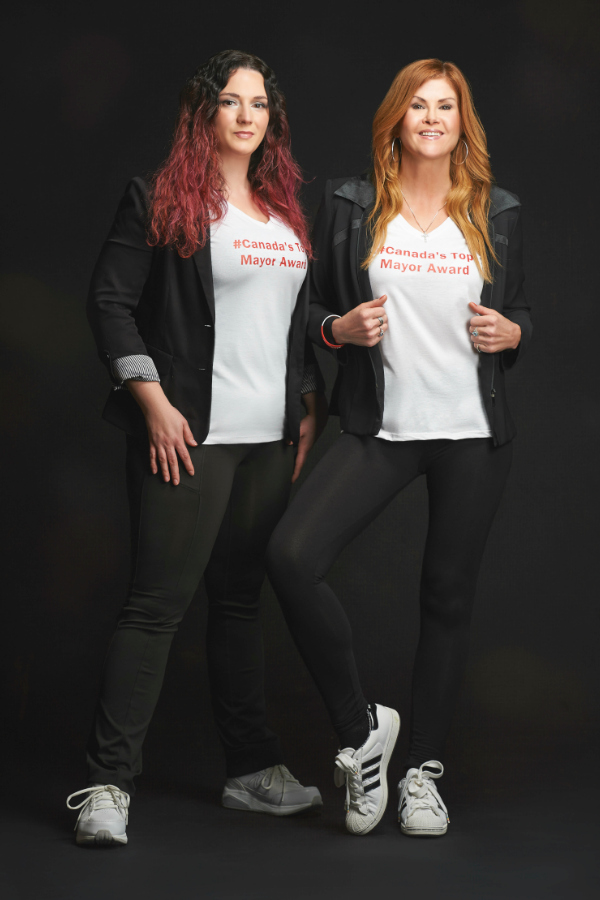 FOR IMMEDIATE RELEASE: January 29, 2019
Barrie, ON – Two long-time friends and entrepreneurs Dawn Mucci, and Tammy-Ann
Chapman have announced a new initiative that is set to change the tone of politics
across Canada. Canada's Top Mayor award is on the hunt to catch Mayors and
municipalities doing something right within their communities. The competition starts
February 2, 2019.
Appropriately titled #Canada's Top Mayor Award, the initiative is an online, social
media-based competition that brings communities, businesses, and Mayors closer
together, through promoting social change where needed most. Best of all, the real
winners are the communities whose profiles will be raised, their local work highlighted,
and the winning municipality will get to present their community improvement initiative
or charity of choice with the funds raised through competition sponsorship.
Public nominations open February 2, 2019 for all big city Mayors with populations of 100
thousand or more. The nominees will be required to provide both a written and video
submission that supports three categories; Talent/Sportsmanship; Leadership; and
Growth, Progress and Vision. Along with their entry, the Mayors must specify which
charities and/or initiatives they will support if they win.
"Our goal is to raise over one million dollars through the various levels of Sponsorship",
says Dawn Mucci, who kicked off the fundraising efforts with a silver sponsorship on
behalf of her companies Lice Squad.com and Women of Charity Inc.
Public voting takes place between May and November with the top three Mayors
moving on to the Judges Panel. The nine-judge panel will submit a scorecard that will
ultimately decide the winner.
Judge Rob Laidlaw (singer/songwriter/producer best known for his contributions to
Honeymoon Suite, Kim Mitchell, and Platinum Blonde) looks forward to seeing what this
country is made of. "I'm excited to be a part of this awesome initiative. Our Canadian
Mayors are the unsung heroes of our towns and cities across this great country. With
this competition, we will elevate Mayors in an authentic way, and create an awareness
towards their hard work and dedication to their cities."
Along with Rob, Judges on the Panel so far include recording artist and International
Touring Agency Co-Owner Peter Jackson; author, athlete, broadcaster and physiologist
Dr. Greg Wells; legendary athlete and motivational speaker Theo Fleury; and Start Up
Canada's Victoria Lennox, with more names to be released in the coming weeks.
"It's all about bridging the communication gap on shared priorities between Municipal
leaders and the people they represent," says Canada's Top Mayor Co-Founder Tammy-
Ann Chapman. "This Award isn't just a competition. It's a celebration of our great
Canadian Mayors, the communities that support them, and the businesses that help
sustain them."
Mayor Lynn Dollin, who represents the Town of Innisfil, says, "as the Past President of
the Association of Municipalities of Ontario (AMO) which represents almost all of
Ontario's 444 municipal governments and as a former member of the Federation of
Canadian Municipalities (FCM) I have seen firsthand the commitment and passion it
takes to be a big city Mayor. Thank you to Dawn and Tammy-Ann for bringing forward
this initiative. I think they all deserve to win."
MP John Brassard is looking forward to seeing the initiative unfold. "I hope that the
Canada's Top Mayor Award initiative will encourage positive communication between
politicians and their citizens and support locally elected officials in all the great work
being done in their communities. I look forward to seeing who will be "Canada's Top
Mayor."
To learn more about becoming a Sponsor, Celebrity Judge, or to follow along with this
exciting new initiative visit www.canadastopmayoraward.com.
About Canada's Top Mayor Award
Media Contacts
Tammy-Ann Chapman
Dawn Mucci
For inquiries email: canadastopmayoraward@gmail.com
Social Media
Facebook: https://www.facebook.com/canadastopmayoraward/
Instagram: https://www.instagram.com/canadastopmayoraward/
Twitter: https://twitter.com/TOPMAYORAWARDCA
Youtube: https://www.youtube.com/channel/UCr7sDIuIuLG2HyPkmLCA4-g
Vlog Channel: https://www.facebook.com/positivepoliticalpeople/